Picking gifts for batman lovers can be time-taking, as there are way too many batman merchandise products available online in India. It's obviously difficult to choose one product among thousands.
As our goal is to save your precious time. At buymeagift, we put in hours of research to go through different products and their reviews, so that we can cater you with the best suggestions. We suggest products that we have already used or trust to use.
Here are some of the best gifts for batman lovers in India:
Brooch
Going to a party? This metal brooch will fit right with your outfit. Pair it with your blazers and make a solid style statement. As a brooch is an important part of a party ensemble, you can flaunt it regularly.
2. Notebook
This cool notebook is a nice gift for anyone who loves Batman and needs to write things down. The quality of the page is really good and the cover design adds a zing to it.
3. Batmobile
Find us a person who will not like this gift, and we will show you a person who hates dark night.
The quality of the metal is incredible and the design is flawless. You are gonna love this miniature version of batmobile. A perfect gift for a true DC fan.
Checkout more gift ideas for your guy friend here.
4. Key Chain
Bet it Secret Santa or new year, there are plenty of occasions for small gifts like a key chain. Buy this for your friend and help him get rid of the old boring key chain.
The quality of the metal is very sturdy and it's available in two finishes.
5. Laptop Skin
Laptop skins are a very common gift among office colleagues. Gift this to your geeky friend, and give his laptop a new look.
Your laptop will be clean as before after the removal, with no sticky residue. You can trim the cover as per your laptop size.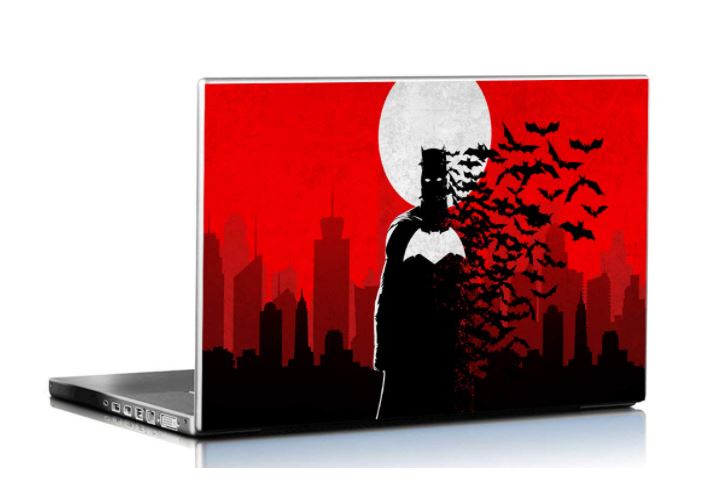 6. Bobble-Head
Bobbleheads are a very cool and quirky thing to gift a friend. If your friend or boyfriend loves Batman, then this needs to go to their collection.
The product is very detailed with a flawless design.
7. Wall Light
This is something new and really cool we have found on Amazon. This made in India light is perfect to hang up on the wall to give your room the cafe vibe.
Pro Tip: Switch on this light when hanging out with friends and beer.
Check-out gifts for beer lovers here.
8. Poster
If you want to play safe with your gift, think no more, and pick this poster. This beautiful and uber-cool poster deserves to be hung on every batman lover wall.
9. Face Mask
This is a great gift for a kid who loves Batman. The quality of the mask is really good, which we can ensure after using it. It can also be used by adults, to wear in comic-cons or just dressing up for role-playing.
10. Paper Weight
This is a really thoughtful gift for someone who is surrounded by papers on his desk.
This is made from stainless steel which gives it the weight and sturdy look.
11. Boxers
This is a perfect gift for your boyfriend if he loves Batman. Boxers are a common gift for boyfriends, and if you are planning to buy one for him, don't think twice and just order this right away.
12. Eye Mask
Everyone needs an eye-mask, whether it is traveling or sleeping early, it always comes in handy. A thoughtful gift for someone who travels very frequently or sleep untimely.
13. Coffee Mug
We know that coffee mugs are kind of a traditional gift, but keeping the love for batman in mind, this would be a really cool and useful thing to gift someone.
Thank you for visiting our blog, if this article was helpful, please subscribe and follow us on Instagram.
Here are a few more articles you might be interested in
New Year's Gifts For Boyfriend